1 KG Chicken Rate Today in Lahore 8 November 2023
What is Chicken Rate today in Lahore? Check it Skinless Chicken, 1 kg, 477 rupees/kg Fresh Meat. 1 KG Chicken Price in Pakistan Today Rate List November 2023 what is the Poultry price in Lahore? Today Chicken rate in Pakistan was announced today by the Lahore Punjab Govt of Punjab.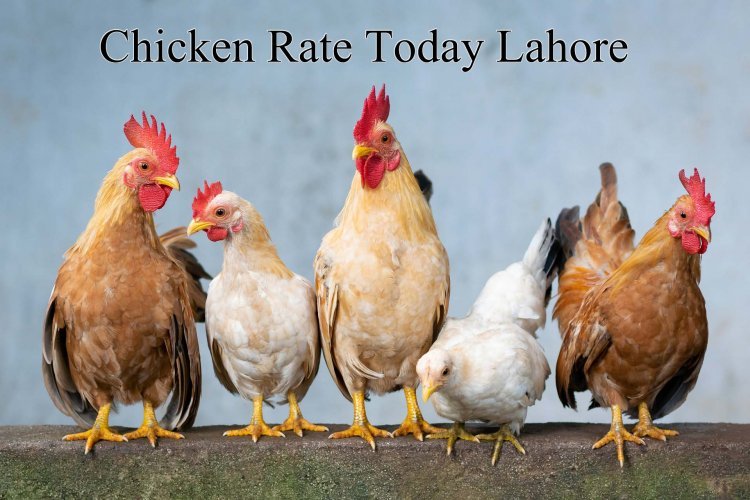 chicken rate today lahore
Chicken Rate Today in Pakistan
If you are looking for a 1 kg chicken price in Lahore today, November 2023, you have come to the right page. Here we will share with you the latest poultry prices in Pakistan. Today chicken rate lahore November vary area wise as well becasue lahore is a big city now and more than 12 million people live in the city.
Today Chicken Rate in Lahore
Today chicken rate in Lahore is a Minimum of Rs. 477 and a maximum of Rs. 485. The price is updated today. The Market committee of Lahore City assigns this price to Murghi Ka Gosht. You can also check the old prices for the last 15 days on this page.
| | | |
| --- | --- | --- |
| Category | Wholesale Price | Retail Price |
| Live Chicken | 317 PKR | 329 PKR |
| Chicken Meat | 405 PKR | 477 PKR |
| Eggs Per Pack |  9,750 PKR | |
| Eggs Per Dozen | | 329 PKR |
Today's Rate List of Chicken Broiler and Desi
The poultry price list gives you the latest updates about today's chicken prices in Lahore. So stay connected with Dareecha and get the latest updates about the chicken price list and today's chicken price in Lahore with all new poultry prices today.
As we all know, chicken is very much loved all over Pakistan. Everyone loves to eat it, from young children to the elderly. It is in great demand in Pakistan as well as in India. Some chicken dishes are cooked for guests, whether at a wedding or a party event.
Chicken rate today in Lahore varies from place to place. Because Lahore is a big city and there are many areas in this city. Therefore, there is a different proportion of chickens in Lahore in other regions. The market price of chicken in Lahore cannot remain the same. It varies from season to season. In winter, the chicken price in Lahore decreases and increases during the summer & winter season.
Chicken Rate Today Lahore | Today Poultry Rate Lahore
In this list, you can find the following poultry rates in Lahore;
Broiler Chicken Rate
Broiler Chicken Meat Price
Eggs for Wholesale price
Eggs for Shopkeeper rate list
if poultry rate today lahore are mismatch than we update here you can post in the comments box and this will help us to fix the issues. we always keep trying to share the best poultry rate today.
Commissioner of Lahore Poultry Price List | Chicken Rate List Today
According to the Commissioner of Lahore, below is the list of poultry prices.
The price of 1 KG of chicken has increased by 150% since last year. Poultry feed costs have been rising steadily, which is the main cause of this increase. However, the government is planning to control the prices of essential commodities like chicken. They have already banned chicken export and are working on increasing domestic production. In addition, they are also providing subsidies on poultry feed to farmers. As a result, it is hoped that the 1 KG Chicken Rate in Pakistan will stabilize in the coming months.
Desi Chicken Price in Pakistan
Chicken is eaten in Pakistan in two varieties: broiler chickens and Desi chickens. Desi Chicken is the most nutritious food, but Desi chicken is the most expensive in Pakistan.
1 KG Chicken Price in Pakistan Today
Chicken prices in Pakistan today November vary from city to city or in a different region. If you are looking for chicken prices in Pakistan, then you are at the right place. Are you looking forward to the 1 kg chicken price today in Lahore, Islamabad, Karachi, Multan, Faisalabad, or other cities? All the details are mentioned below on this page.
Prices also vary for different kinds of chicken meat, like boneless chicken, Chicken wings, Chicken Thai, Chicken breast pieces, Chicken leg pieces, and live chicken meat called in Pakistan "Zinda Murghi." 
| | | |
| --- | --- | --- |
| Name | Minimum Price | Maximum Price |
| 1 KG Chicken  | 477 PKR | 485 PKR |
Chicken Rate Today Islamabad
Unlike other cities Islamabad is very advanced and clean city because people from around the globe live here. There are many restaurants and fast food points which consumed a lot of amount of chickens in shape of different recipes. chicken rate today Islamabad November be little higher than Lahore so we can say if the price of chiken in Lahore is 477 then in Islamabad it will be around 485 to 490 per KG. 
Chicken Meat Price in Pakistan
The price of chicken in Pakistan can vary depending on a number of factors, including the region of the country, the time of year, and the source of the chicken. Generally, chicken prices in Pakistan are determined by supply and demand, with prices rising during periods of high demand and falling during periods of low demand.
In major cities like Karachi, Lahore,Islamabad and Peshawar, chicken is usually sold at retail markets, supermarkets and grocery stores, and prices can range from as low as Rs. 477 per kg to as high as Rs. 485 per kg, depending on the quality and source of the chicken. However, prices are typically lower in rural areas and in smaller towns, where local farmers often sell their chicken directly to consumers.
There are also many different types of chicken available in Pakistan, each with its own unique price. For example, organic and free-range chicken is often more expensive than conventional chicken, while younger birds tend to be more expensive than older birds.
Overall, the price of chicken in Pakistan can be affected by a variety of factors, including supply and demand, regional differences, and the type of chicken being sold. It's always good to check with local stores or markets for the current prices.
How Many Calories in 1 Chicken Breast Piece?
Chicken breast is a popular protein source for many people looking to maintain a healthy diet. It is low in fat and calories but high in protein, making it a great option for those trying to build muscle or lose weight.
One boneless, skinless chicken breast (about 3.5 ounces or 100 grams) contains around 165 calories. This makes it an excellent option for those watching their calorie intake. It also contains 31 grams of protein, which is essential for building and repairing muscle tissue. The same serving size contains only 3 grams of fat, making it a lean protein source. In addition, it contains 0 grams of carbohydrates.
It is important to note that the calorie and nutrient content of chicken breast can vary depending on the source and the method of cooking. For example, if the chicken breast is breaded or fried, the calorie and fat content will be higher. Also, keep in mind that if you eat a bigger portion of chicken breast, the calorie count will be increased.
Calories and Protiene count in one Chicken Bonless Breast Piece
165 calories
31 grams of protein
3 grams of fat
0 grams of carbohydrates
When preparing chicken breast, it is best to bake, grill or sauté it to keep the calorie and fat content low. Adding herbs and spices can also add flavor without adding calories.
In summary, chicken breast is a lean protein source with a low calorie count, making it a great option for those looking to maintain a healthy diet. It is high in protein, low in fat and contains no carbohydrates. It's always good to know the calorie count and the method of cooking to make an informed decision about including it in your diet.