Zenith Meat Outlet Locations And Rate List of June 2023
If you are looking for zenith meat locations in Lahore and wants to find out the latest rates then you are on the right page as we will share the complete detail in this post.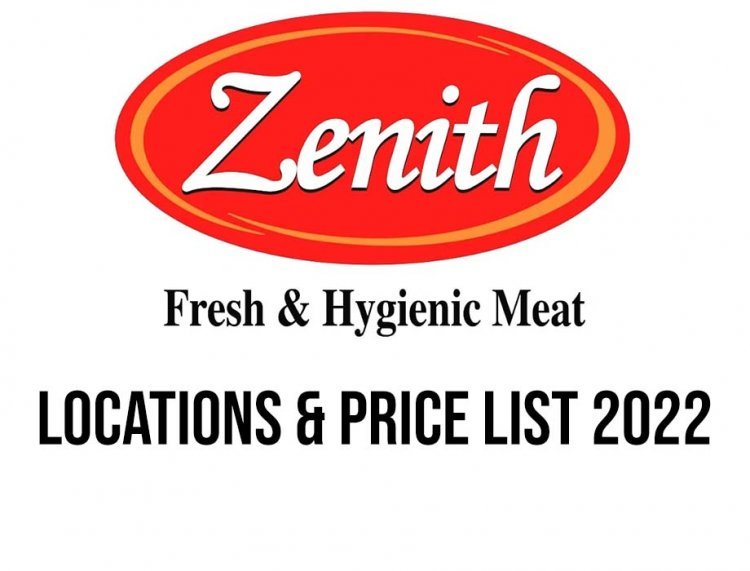 Zenith Meat Stores in Lahore And Rate List of 2022
zenith meat is Pakistan's largest halal meat food chain and exporters. They do have many shops and outlets in Lahore providing fresh meat to their customers on affordable prices. They claim that they follow the strict rules and regulation in order to maintain best quality of meat in their abattoir.
In Which Countries Zenith Meat Export
They do export almost 15+ countries under therir umbrella, folloiwng listed countries are the main importer of zeinth meat.
Iran, Kingdom of Saudi Arabia, United Arab Emirates, Qatar, Bahrain, Kuwait, Malaysia, China, Singapore, Indonesia, Armenia, African Countries, CIS Countries.
Zeinth Meat Qurabi Rate 2023
Zeint meat offers qurbani each year and you can collect your qurbani meat at your door step or from any of their branch. You can Visit your nearest Zenith Outlet for hassle free and clean qurbani at affordable prices.
See The Following Rate list of Zenith Qurbani 2023
Bakra/Goat 48,500 PKR
Chatra 45,500 PKR
Dunba 45,500 PKR
Cow Share 29,500 PKR
Cow Full 199,500/- PKR
Customers can have extra 10% to 20% OFF if they will pay with Credit or Debit card of MCB Bank, Allied Bank, HBL Bank, Askari Bank, Silk Bank, BOP Bank, Alfalah Bank, Faysal Bank, JS Bank, Summit Bank, and UBL Bank.
Zeinth Meat Rate List of 2023
Cufrrent rate list of all types of meats is listed below and you may enjoy best quality fresh hygenic meat from Zenith stores.
Mutton Chest 2,164
Mutton Mix 2,375
Mutton Chanp 2,763
Mutton Dasti 1260
Mutton Puth 2,967
Mutton Ran 2,877
Beef With Bone 787
Beef Keema 825
Veal With Bone 1,299
Veal Keema 1,462
Whole Chicken 726
Chicken Boneless 809
Note: Price are not official and regulary update- These may vary at official store.
Zeinth Outlets Locations in Lahore - Islamabad - Rawalpindi
Zeinth has many outlets in Lahore and recently got few of stores in Islamabad and Rawalpindi. Here are the locations of their all outlets with contact numbers.
1. F-7 Markaz, Jinnah Super, Bhittai Road. Islamabad 03163335414
2. Roundabout, Allah Hoo Chowk. Lahore 03163335406
3. A Market Commercial Area Askari-X. Lahore 03163335409
4. Eagle Mall, Shaheen complex-Bahria Town. Lahore 03163335421
5. Opp. Toyota Motors, New Airport Road, Bhatta Chowk, Cantt-Lahore 03163335425
6. 18-CCA Commercial Area-Phase 5 DHA. Lahore 03163335410
7. 114-Y Commercial Area-Phase 3, DHA. Lahore 03163335401
8. Sale centre, Barkat Market. Garden Town. Lahore 03163335412
9. Roundabout Girja Chowk. Lahore 03163335408
10. Mini Market, MM Alam Road-Gulberg. Lahore 03163335402
11. Dubai Chowk. Iqbal Town. Lahore 03163335404
12. G-3 Khokhar Chowk. Johar Town. Lahore 03163335403
13. Opp. McDonald's Model Town-Link Road Lahore 03163335405
14. Rehmat chowk-Wapda Town. Lahore 03163335415
15. Near M.A.O College, Riwaz Garden Lahore. 03163335426
16. Roundabout Saddar Cantt. Lahore 03163335417
17. PIA society Road, Wapda Town Roundabout. Lahore 03163335407
18. Chaklala Scheme-3 Main Commercial. Rawalpindi 03163335413