Route Map And Timing of Lahore Metrobus 2022
if you are looking for the route map or timing for the Lahore metro bus then you will get all the details from here.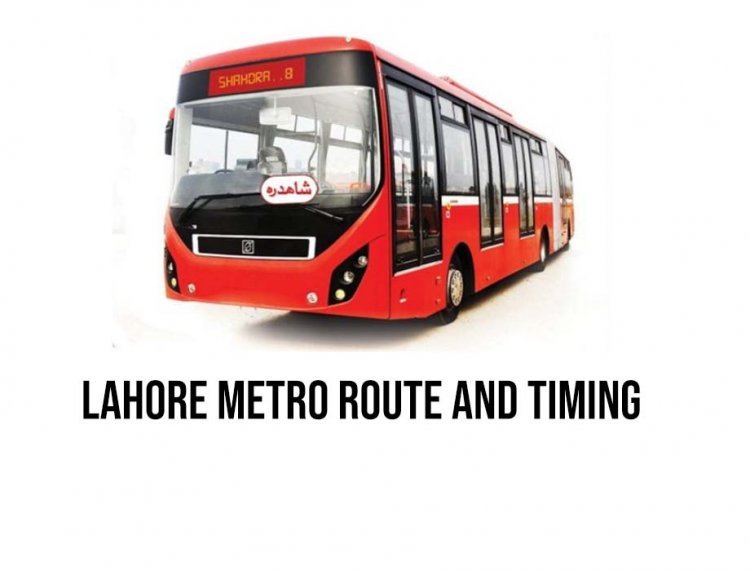 Lahore Metro bus is a protected, effective, and agreeable quick transport travel administration in Lahore. Lahore Metrobus Service is coordinated with Lahore Orange Line Metro Train to give a metropolitan vehicle framework. Lahore Metro has an armada of 66 airconditioned modes of transport which are working on a 28.7km long course. There is a metro station at about each 01km of the course. Lahore Metro utilizes a wise transportation framework. Very nearly 200,000 travelers travel every day through this transport organization.
Remarkable elements of this metro transport network incorporate; mechanized off-board admission assortment, very much planned stations, transport booking framework, vehicle area framework, traveler data framework, and exact transport docking framework.
Working long periods of Lahore Metro is from 6:15 AM to 10:00 PM and for Feeder Routes 6:00 AM to 11:00 PM.
Lahore Metro Bus Ticket Price
There are two types of fare ticketing systems exist:
Single-ride tokens for one journey only and can be purchased for Rs. 30 from the ticket booth or the self-service Ticket Vending Machines (TVM) at the Metro Bus Station.
Metrobus Cards can be utilized for multiple journeys and without the hassle of standing in a queue for a token. These cards are available free of cost at the Ticketing Offices on showing your national identity card or Form-B (in case you are younger than 18). These cards can be recharged to a maximum balance of Rs. 1000 at the TVMs. The same card can also be used on the feeder routes of Metro Bus.
Lahore Metro Bus Stations/ Bus Stops
Lahore Metro has the following 27 bus stations:
Shahdara Terminal
Niazi Chowk
Timber Market
Azadi Chowk
Bhatti Chowk
Katchery
Civil Secretariat
MAO College Orange Line (Lahore Metro)
Janazgah
Qartaba Chowk
Shama
Ichhra
Canal
Qaddafi Stadium
Kalma Chowk
Model Town
Naseerabad
Itefaq Hospital
Qainchi
Ghazi Chowk
Chungi Amar Sidhu
Kamahan
Atari Saroba
Nishtar
Youhanabad
Dulu Khurd
Gajjumata Terminal
Timings of Lahore Metrobus System
Let's take a look at the operating hours of the Metro Bus System in Lahore

Central Line Timings:

6:15 am – 10:00 pm

Interval Between the Departure of Buses (Peak hours)

2.25 minutes to 3 minutes

Timings for Feeder Buses

6:00 am – 11:00 pm

Interval Between the Departure of Feeder Buses

5 to 10 minutes (Peak Hours)

10 to 15 minutes (Off-Peak Hours)
Speedo Bus Routes in Lahore
Speedo bus runs along the following feeder routes in Lahore for Metro Bus.
| | |
| --- | --- |
| Route No. | Route Details |
| 1 | Railway Station to Bhatti Chowk |
| 2 | Samanabad Morr to Bhatti Chowk |
| 3 | Railway Station to Rana Town |
| 4 | R.A. Bazar to Chungi Amar Sidhu |
| 5 | Shadbagh Underpass to Bhatti Chowk |
| 6 | Babu Sabu to Raj Garh |
| 7 | Chungi to Bagrian |
| 8 | Daewoo Terminal to Canal |
| 9 | Shamnagar to Railway Station |
| 10 | Multan Chungi to Qartaba Chowk |
| 11 | Babu Sabu to Main Market |
| 12 | R.A. Bazar to Civil Secretariat |
| 13 | Bagrian to Kalma Chowk |
| 14 | Purana Kahna to R.A. Bazar |
| 15 | Bhatti to R.A. Bazar |
| 16 | Canal to Thokar Niaz Baig/ Daewoo Terminal |
| 17 | Gajjumata to PKLI |