The 8 Best Kitchen Accessories to Buy in 2022
Kitchens have become a delight to work in, with numerous innovative home devices and accessories available to home chefs. If you want to brighten up your kitchen without making major modifications, the simplest method to do is to replace or add kitchen accessories to the existing kitchen decor. These accessories in the house give aesthetic value to a kitchen while also making meal preparation easier. Existing products are not only being upgraded with smart technology, but interesting new imaginative kitchen accessories are being produced on regular basis. Many of us are struggling to keep up with the flood of fresh kitchen ideas. These fascinating kitchen gadgets of the year can help you save time while cooking and have fun. On a practical level, handy gadgets can not only improve the way you cook, but they can also save you time and money, especially if you choose a versatile piece of equipment. There are various cost-effective ways to accomplish this using modern kitchen accessories like spice rack, cutlery set, air fryer or plate holder that can instantly improve your present kitchen décor without burning a hole in your pocket. This article explores 8 of the greatest and brightest new kitchen gadgets to buy in 2022. From intelligently designed budget buys that prove you don't have to break the bank to find a fantastic kitchen gadget, to multi-functional machines that outperform in their versatility, whatever your budget or kitchen size.
1. Plate Holder
Plate Holder for kitchen cabinet
A plate holder is a modern kitchen gadget to achieve a complimentary aesthetic which is a fashionable and practical way to store plates. Its attractiveness is that it can be manufactured and fitted into an existing cabinetry run or anywhere in the kitchen.
For kitchens with limited space that restricts the installation of a cabinet, a plate rack can be a cost-effective method to showcase a good collection. As these are not usually covered by a cabinet door, thus they are a conspicuous feature of the cabinetry that most people appreciate.
Pros:
Simple to reach
Separates cabinet lines
Displays a collection of plates
Space-saving solution
Cost-effective
Comes fully assembled and ready to use.
Cons:
Unless dishes are used, dust and grease will accumulate over time.
Only a limited number of plates can be stored
2. Fork and Spoon Rack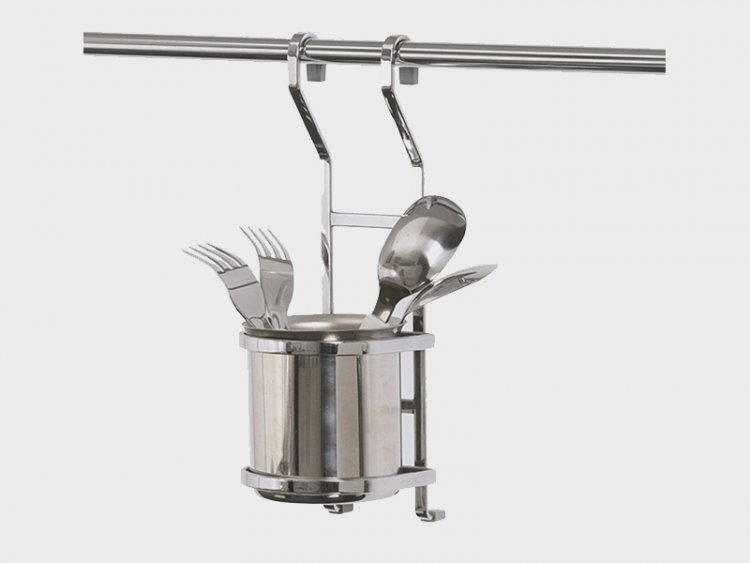 Fork and Spoon Rack Holder
Forks and spoons are an essential element of any kitchen, and because you use them daily, it's necessary to have a storage solution that works for you. Moreover, a decent rack is an essential kitchen equipment that can improve your dining experience and contribute to the pleasant atmosphere of your dining table. These make you feel fancy while being light on the pocket.
These fork and spoon racks are built of various materials, including stainless steel, white acrylic and hardware, metal wire, wood, cardboard, and more, which add to the durability. Ease your life with a simple storage solution for your spoons and forks and breeze a new life into your kitchen.
Pros:
Spoons and spatulas of any size can be used.
Simple to clean
Eco-friendly
Effective utilization of space
Ease of arrangement
Saves time while finding the item
Cons:
Can't hold a large number of forks and spoons
Wooden fork and spoons racks are harder to clean
Wooden racks get stained easily
3. Air Fryer
Air Fryer
The air fryer is the most popular kitchen appliance in 2022. It circulates hot air exceptionally efficiently resulting in a 'fried finish' on foods with little to no oil, which is challenging to produce in an oven. You can air fry chicken wings, chicken breast, sweet potatoes, cinnamon buns, fresh fries, and much more at the touch of a button, whether your food is fresh or frozen.
These air fryers contain up to 85% less fat than typical deep-fried meals while preserving the same great taste, making it the ideal present for family or friends. It includes 11 One-Touch Presets and multiple creative, delicious, and simple recipes for every meal.
Pros:
Interior lighting for grill viewing
Chips that are evenly browned and have a crisp exterior
Small chicken cooked to perfection
Grill fork for securely handling hot elements
Cons:
Large footprint on the countertop
Heat emission from the top
4. Donut Baking Pan
Donut Baking Pan
Donut pans are another kitchen accessory, perfect for your bakery, coffee shop, home, or restaurant. These pans contain numerous cavities, allowing you to manufacture a half dozen or dozen doughnuts simultaneously. Furthermore, because these pans allow you to bake your donuts rather than fry them, your baked products will be less greasy and fattening.
When you consider everything that donut baking pans have to offer, it's no surprise that they've grown in popularity in recent years. Compared to buying donuts from a doughnut restaurant or bakery, the pans soon pay for themselves.
Pros:
Non-stick coating makes cleaning easier
Come at affordable prices
Great baking tool
Fun and simple to use
Durable and sturdy structure
With the help of doughnut pans, you can make the perfect donuts.
Cons:
Don't come with a recipe book
Difficult to clean the pans which are not non-stick
Some donut pans are not durable and can easily break
5. Paper Roll Holder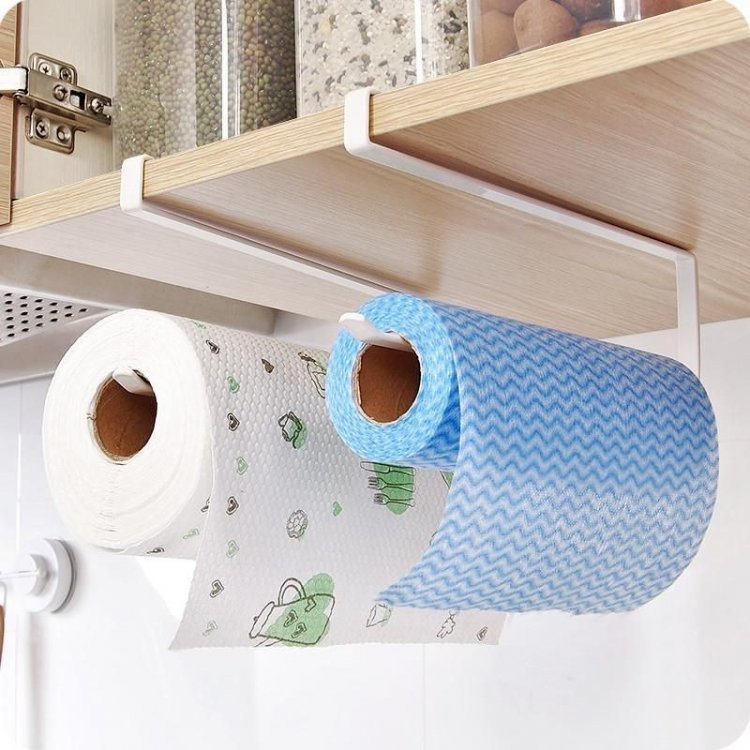 Paper Roll Holder
Every kitchen would need a paper roll holder for cleaning and sanitary reasons, so it's another essential kitchen gadget of 2022. It's pretty simple to set up and replenish, assisting in cleaning and organizing your kitchen. These holders come with 2-3 sections of cling film, aluminum foil, and paper holder, making it easier to cover your food, cook, and clean. There is a honed blade on the holder that readily cuts cling film or foil.
Pros:
Produced from high-quality wood.
Holds a roll of paper towels for quick access from any location on the counter.
Simple rolling design
Functional and easy to install
Cost-effective
Cons:
Extra-large rolls may not be accommodated.
May not be available in a variety of colors
6. Spice Racks
Spice Racks
Spice racks are a fantastic organizational tool that arranges your spices and can hold many jars beautifully and uniquely. Kitchens may quickly become cluttered, but a well-organized spice rack in the kitchen will eliminate clutter and make it appear tidy and clean.
A defined space will also allow you to quickly reach spices when cooking, saving you the trouble of rummaging through drawers for too long to find the appropriate item. There are numerous spice racks and organizers available that work with your intended function and the look of your kitchen, whether you want to keep your spices hidden away or have them on display on your countertop.
Pros:
Easy access to the jars when planning and making your dishes and desserts.
storage system to reorganize and maximize cabinet space consumption.
Slide out access
Comes in a range of materials, designs, and sizes
Easy-to-install design
Cost-effective
Cons:
In remote locations, the installation might be challenging.
The appearance is very utilitarian.
Not available in a variety of colors
7. Cutlery Set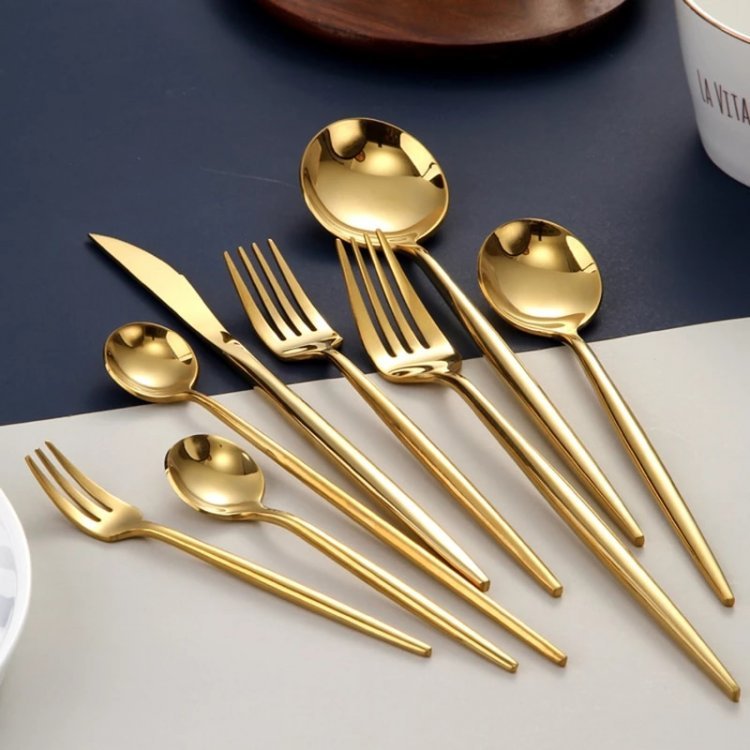 Cutlery Set
Do you enjoy the sound of the fork and knife clinking? Sparkling, clean, and shining cutlery instantly elevates the appearance of a dining table. A gleaming fork, as well as a strong knife and spoon, are probably necessities of every home. As a result, it is crucial to purchase high-quality kitchen supplies, and a stainless-steel cutlery set helps achieve this goal. A fine cutlery set is noted for its durability, corrosion resistance, and heat transmission capabilities which adds lasting beauty to the aesthetic of your kitchen.
Pros:
Finished with a high polish
Superior resistance against rust
Long-lasting
Simple to keep up with
Resistant to stains
Dishwasher-friendly
Cons:
Because nickel is more expensive
If not thoroughly dried after washing, it can rust.
8. Digital Kitchen Weight Scale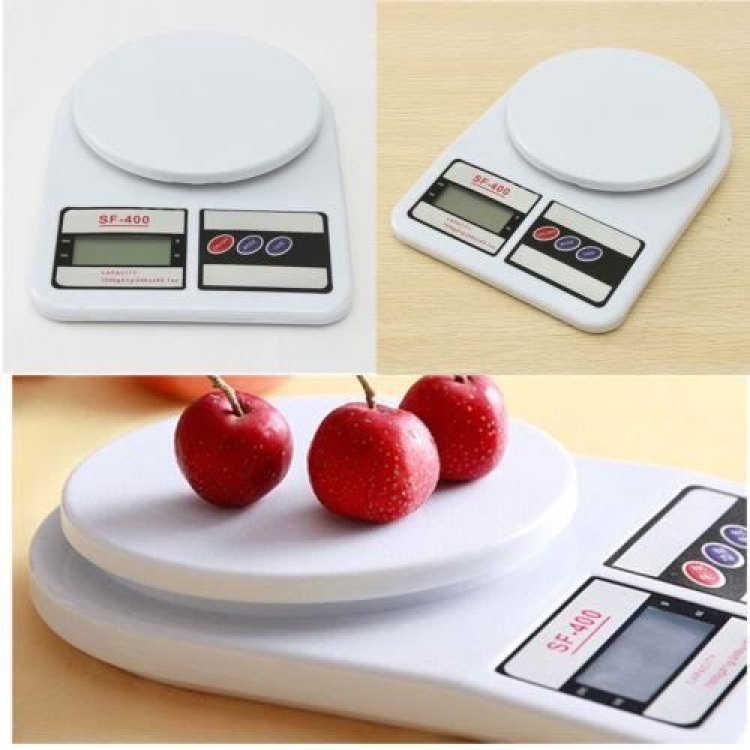 Digital Kitchen Weight Scale
Digital kitchen food scales, often known as kitchen scales, are one of the most popular measurement devices. These can be used to accurately follow recipes, determine the suitable amount and serving sizes, and measure the nutritional value of foods by carefully measuring the weight of individual components or prepared foods.
With the simple push of a button, you can effortlessly switch between grams, ounces, troy ounces, pennyweights, grains, and carats. Professional and amateur chefs, cooks, and bakers prefer kitchen scales as they are helpful for portion control and correctly recording food intake to stay below calorie limits.
Pros:
Helps you live a healthier lifestyle by assisting you in creating the proper recipe.
Make losing weight simpler.
Compact enough to fit in a kitchen cabinet, drawer, etc.
Easy conversions of measurements
Accurate measurement and durability
Easier to operate.
Cons:
Expensive and not everyone can buy.
Some kitchen scales are challenging to fix.
Purchasing a low-quality kitchen scale will cause harm.
Needs batteries to operate and if the batteries are not working, then it's useless.
In this article, we compiled a list of the most important and practical kitchen gadgets and items to make your life easier. From an easy-to-use air fryer to a smart digital weight scale and a convenient rack, all these accessories will make your cooking and meal-prepping experience a little easier and more fun.