Samsung Galaxy A32 Price in Pakistan 2023: Specifications and Features
Discover the Samsung Galaxy A32, a feature-packed smartphone at an unbeatable price. With a 6.4-inch display, 128GB storage, 6GB RAM, and a 5000mAh battery, it offers impressive performance and endurance. Capture stunning photos with its quad-camera system featuring a 64MP main camera. Priced at PKR 76,999 in Pakistan and $185 internationally. Experience excellence without breaking the bank.
a32 samsung price in pakistan
At Dareecha.pk, we are thrilled to present the Samsung Galaxy A32. This great smartphone combines cutting-edge features with affordability. In this comprehensive guide, we will delve into the exceptional attributes of the Galaxy A32 and showcase why it is the ideal choice for tech enthusiasts and budget-conscious individuals.
Samsung Galaxy A32 Price in Pakistan
The Samsung Galaxy A32 is priced at PKR 76,999 in Pakistan. This remarkable smartphone features a generous 6.4-inch display with an immersive viewing experience. With a storage capacity of 128GB built-in, it offers ample space to store all your files and media. The variant with 6GB RAM ensures smooth and efficient performance for multitasking. Equipped with a powerful 5000 mAh battery, the Galaxy A32 guarantees long-lasting usage without frequent charging.
Regarding photography, the Samsung Galaxy A32 excels with its impressive quad-camera setup on the rear. The primary camera boasts a remarkable 64 MP resolution, capturing stunning details in every shot. Accompanying the primary camera are an 8 MP lens, a 5 MP lens, and an additional 5 MP camera, providing versatility and enabling you to explore various photography styles.
The Samsung Galaxy A32 is priced at $185 for international buyers. This competitive price point and its exceptional features make it an attractive choice for users worldwide.
Unveiling the Design
The Samsung Galaxy A32 boasts a sleek and modern design that will catch the eye. Its slim profile, curved edges, and attractive color options, including Awesome Black, Awesome Blue, Awesome Violet, and Awesome White, make it a stylish accessory that complements your taste. The seamless integration of the 6.4-inch Super AMOLED display and the slim bezels provide an immersive viewing experience, enabling you to enjoy your favorite content in vivid detail.
Captivating Display and Immersive Visuals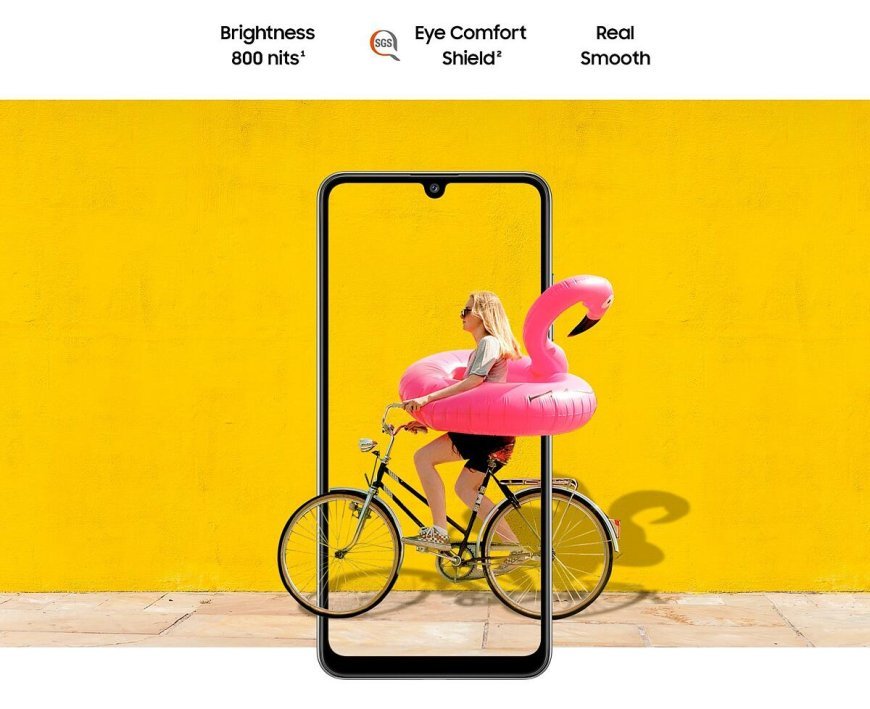 The Galaxy A32 sets a new standard for visual excellence with its impressive 6.4-inch Infinity-U display. Featuring Full HD+ resolution and vibrant Super AMOLED technology, this smartphone delivers stunning visuals with rich colors, deep blacks, and sharp contrasts. Whether browsing the web, streaming videos, or playing games, the Galaxy A32 ensures an immersive and captivating experience.
Performance and Power
Under the hood, the Galaxy A32 packs a punch with its powerful hardware configuration. Equipped with an Octa-core processor and a generous 6GB/8GB RAM, this smartphone effortlessly handles multitasking, allowing you to switch between apps seamlessly. Whether you are browsing the internet, running graphics-intensive games, or multitasking between various productivity apps, the Galaxy A32 delivers smooth and lag-free performance.
Ample Storage for Your Digital World
With abundant storage space, the Samsung Galaxy A32 ensures that you never have to compromise on your digital content. Choose between the 128GB and 256GB variants, and expand the storage further with a microSD card to accommodate all your photos, videos, games, and apps. Say goodbye to the frustration of running out of space and embrace the freedom to store your memories and entertainment on your device.
Capture Life's Moments in Stunning Detail
Photography enthusiasts will be delighted with the versatile camera system on the Samsung Galaxy A32. The quad-camera setup on the rear comprises a 64MP main camera, an 8MP ultra-wide-angle lens, a 5MP macro lens, and a 5MP depth sensor. These lenses empower you to capture a wide range of scenes with exceptional clarity, detail, and depth. From sweeping landscapes to intricate close-ups, the Galaxy A32 ensures every shot is a masterpiece.
Immersive Entertainment on the Go
Are you seeking a smartphone that takes your entertainment experience to the next level? Look no further than the Samsung Galaxy A32. Thanks to its large display, powerful processor, and stunning visuals, this device transforms into a portable entertainment hub. Whether you enjoy streaming movies, playing graphics-intensive games, or listening to your favorite music, the Galaxy A32 delivers an immersive and enjoyable experience that keeps you engaged wherever you go.
Long-Lasting Battery Life
Are you worried about running out of battery during the day? The Galaxy A32 comes with a robust 5,000mAh battery that provides exceptional endurance. No matter how demanding your day is, this smartphone ensures you stay connected and entertained for extended periods. Moreover, the device supports fast charging, allowing you to quickly recharge and return to what you love without unnecessary downtime.
Secure and Convenient Unlocking
Samsung understands the importance of privacy and convenience, so the Galaxy A32 offers various unlocking options to suit your preference. Whether you prefer the traditional fingerprint sensor or the advanced Face Recognition feature, you can unlock your device effortlessly, ensuring that only you can access your data.
Conclusion
In conclusion, the Samsung Galaxy A32 stands out as a feature-packed smartphone that perfectly balances performance, affordability, and style. From its captivating display and powerful hardware to its versatile camera system and long-lasting battery life, the Galaxy A32 caters to the needs of tech enthusiasts and budget-conscious individuals alike. Take advantage of this incredible device that offers exceptional value for your money.